Heidi Montag
shows off her store bought assets on the cover of the February 2008 issue of Maxim Magazine. Speaking of Spencer, Heidi Montag and Spencer's relationship isn't doing so well according to Life and Style:
The two were down in Los Cabos, Mexico, earlier this month, reports Life and Style. But, the magazine says, the trip doesn't mean there's been any forward momentum after the big step back from their engagement.

An insider apparently told the magazine, "The wedding planning really broke up the engagement. Heidi isn't convinced Spencer understands the meaning of a lifelong commitment."

The Hills couple is featured on the cover of the current issue, with the dramatic headline "The Only Way I'll Marry Spencer" and the claim that "Heidi issues Spencer an ultimatum."
More Picture after Jump


It took Heidi this long to figure out that Spencer doesn't know the meaning of a lifelong commitment? She definitely is a blonde. I could have told you that the first time I saw him and she should have figured it out when he started hooking up with other chicks. However, I still love the chick because she's a such a troublemaker and I can't wait to see what she's going to do next. Just imagine the Hills without Heidi, it would be as boring as Jason's personality.

Here are some excerpts from Heidi's interview with the prestigious publication:

The Hills is a "scripted" reality show. Let's settle this: How real is it?
The Hills is a show that's 22 minutes long about seven people's lives. It's edited for drama, and there are editors and story lines. If someone walks in front of the camera, we have to redo the shot. So it's not exactly how things always are. It's not like The Truman Show. They're not with us all the time, although I wish they were, because it would be a way crazier show. Let's see how Lauren would look then!

Meow! So are you and L.C. friends at all?
She's changed. Some people go more Hollywood than others. We're from different backgrounds. She grew up in that spoiled Laguna world, and I grew up with humble beginnings. She's very controlling. She was crazy about how much time I spent with Spencer, and I had to see her every day. I've heard from other people that she's a big diva now. "Insiders" say.

Heidi Montag's New Maxim Magazine Photos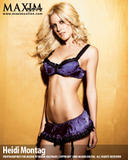 Pic Source