Marianne Pearl
, the wife of the slain Wall Street Journal journalist Daniel Pearl, and
Angelina Jolie
(she plays her in the upcoming film
A Mighty Heart
) sat down with Glamour editor-in-chief Cindi Leive for an interview at Angelina's home.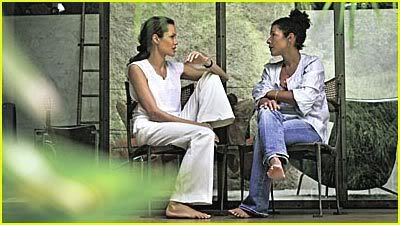 In a joint interview with
Mariane Pearl
, Jolie tells
Glamour
she was intimidated by the prospect of meeting Pearl for the first time.
"I remember being really nervous, thinking, she's such an intelligent European woman – what are we going to do together?" says Jolie, 31.

They chose to attend a "serious, European, existential play," says Jolie. "It seemed like the right thing [and it was supposed to be okay for kids]. But [their sons] Adam and Mad got antsy, and finally halfway through, to each other's relief, we were both like, do you want to get out of here?"




Mariane Pearl

became a reluctant global icon in January 23, 2002. That was the day her husband, Wall Street Journal reporter Daniel Pearl, was kidnapped by terrorists in Pakistan while investigating Islamic extremism. For weeks, millions around the world watched, astonished, as Mariane, then five months pregnant with the couple's son, Adam, appeared calm and collected on TV to appeal for her husband's release. (When asked what she would say to him if he were listening, she replied simply, "I love you.") The unbearable news in February 2002 that Pearl had been beheaded by his captors triggered worldwide outrage, but Mariane refused to lash out. "Danny has not been defeated," she went on CNN to say. "His pain and my pain will help…change the world."

source 1 | 2 | 3